Digital display immersion throughout the A'22 tradeshow provided by digital experience and execution firm ANC.
creating unforgettable
E X P E R I E N C E S
ANC creates custom display technology environments to deliver unforgettable experiences. We transform commercial spaces such as sports arenas, transit hubs, entertainment venues, and retail locations through immersive design, execution and installation, support services, and operations.
Having more than 20 years of expertise, some of our iconic display technology partners include Westfield World Trade Center, Moynihan Train Hall, Wells Fargo Center, Dodger Stadium, Fenway Park, Lollapalooza, Live Nation, Rocket Mortgage Field House, and colleges and universities across the United States.
For the A'22 Architecture Expo, ANC provided an immersive display to create a unique experience for the first in-person show since 2019. The digital displays included an architectural-grade LED glass material wall in the main concourse/entry from ANC's exclusive manufacturer partner GLAAM America. The fully transparent glass wall activated with moments of graphics and full content takeovers. Inside the expo hall, ANC provided two 2.8mm vertical displays in the AIA Booth with live video streaming the attendees visiting the booth. ANC also provided a McCormick Center entryway a 9' high LED display plus a variety of demo modules for attendees to hold and demo in the ANC booth including flexible LED, MESH stick product, and the new 4mm LED film application demo.
CE THEATER - ANC PRESENTATION
Expand Your Design Palette With Digital Media Technologies
PROGRAM CODE LEARNING UNITS
EX110 1.00 LU/RIBA
Digital media canvases let architects design with technology that fits within the defined aesthetic and property owner objectives, including commerce, the arts, information-sharing, or a combination. But which technologies are right for your specific project?
Join this session to learn how to select and integrate the right technology application—such as flexible LED, architectural-grade media glass, or thin cabinetry design—into your projects. You'll reference case studies, high-profile digital deployments like an all-encompassing LED tunnel, a redesigned retail banking environment, a historic New York transit hub renovation, and custom solutions for a multiuse commercial venue.
AIA TECHNOLOGY PARTNERS
Building science and technology
From an escalator through an immersive 3-D ocean to a curved LED tunnel, AIA partner ANC explores how to find the right display technology solution to fit every creative idea. Dive in the four initial considerations for designing display technology into your projects.
Gone are the days when digital boards are just for advertising or wayfinding — interior and exterior spaces are increasingly ripe for use as engaging digital media canvases, whether you're designing a commercial or retail space, transit or aviation hub, entertainment facility or attraction, or a mixed-use location.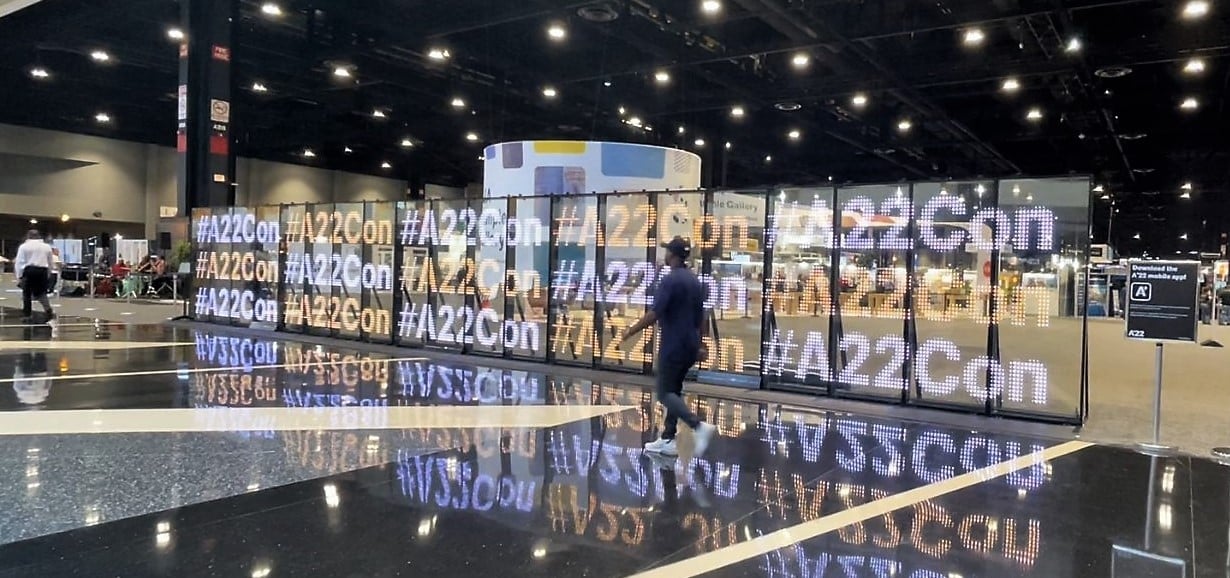 ANC & exclusive distribution partners GLAAM America provided the architectural-grade LED glass material wall in the main concourse/entry of A'22
Your proven Technology Partner for all your Digital Signage Experiences:
Schedule a private virtual presentation of our AIAU course!
Request a free consultation or a walk-through of your space!
THE ANC APPROACH
Here's the good stuff
ANC specializes in designing complex video displays, digital media, audio and broadcast systems which fit seamlessly into your venue architecture, becoming part of an existing aesthetic or as the focal point of a retail property, transportation center, stadiums, concert venues, or special event.
Design & Consulting
Whether the space is existing or planned, our team will help you realize the vision through a full-service design process that ensures the experience is both achievable — and unforgettable.
Product Sourcing
ANC recommends technology products specifically for your individual needs, including custom-designed solutions within a defined budget. We aren't tied to one manufacturer or solution, allowing for the best products for your specific project, period.
Execution Expertise
Unparalleled expertise in audiovisual integration and project management across various video display hardware, sound systems, broadcast systems, interactive applications and lighting technologies.
Ongoing Support
Post-installation, you can expect peak performance. Once ANC builds it, we don't disappear. We provide ongoing service, support, content, and maintenance to ensure your systems run to perfection.